Public hearing Thursday on solar ordinance
Published 4:00 pm Monday, September 7, 2020

Those who want to speak about a proposed ordinance to allow solar energy facilities in Clark County will have their chance Thursday.
The meeting will be at 7 p.m. at Central Baptist Church, 101 W. Lexington Ave.
The meeting will also be on Zoom. The Zoom link is zoom.us/j/98948889876 and the access code is 989 4888 9876. The phone number to listen is 301-715-8592.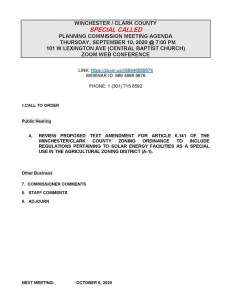 The only action item on the agenda is a public hearing for a proposed text amendment for the county zoning ordinance to add language about solar energy facilities as a special use for property zoned for agricultural use.
Planning Director Robert Jeffries said in August there had not been a meeting or vote on the matter, as they were trying to find a location large enough to comply with social distancing guidelines for public gatherings.
The ordinance, as proposed, would allow solar facilities capable of generating at least 20 megawatts of energy.
The ordinance would also establish the process for approving such projects, Jeffries said.
The matter was publicly addressed during a Clark County Fiscal Court meeting in June, where representatives of Geenex Solar said the company was working to develop a possible project in Clark County and other Kentucky counties.
John P. Rompf, a local attorney, said he was representing an unnamed solar company. Rompf told the court other companies were asking for the text amendment, though there were no specific projects in Clark County.
Jeffries said there was interest from several companies, but no applications have been received.
An online petition against the measure has already garnered more than 2,400 signatures as of Monday afternoon.
More News