Sheriff says fair shooting was not an accident
Published 1:59 pm Wednesday, June 30, 2021

Investigation continues as persons of interest are sought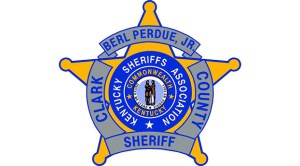 A shooting was reported at the Clark County Fair Tuesday night sometime after 9 p.m. Despite reports that the shooting was accidental and self-inflicted, Clark County Sheriff Berl Perdue says that is not the case.
Wednesday afternoon, Perdue said the incident was the result of what appears to be a disagreement.
"He did not shoot himself accidentally," he said. "I think it was just a problem between two people, or two groups of people, which is something we're trying to sort out."
Perdue said none of the people of interest, including the victim, are from Clark County, but instead are from Paris in Bourbon County.
"It was not self-inflicted, accidentally or otherwise. That's not the case at all," Perdue said. "I know some people swore that it was fireworks, but it was definitely not fireworks."
One person was injured by gunfire, suffering an injury to the lower leg. Perdue said the victim was taken to Clark Regional Medical Center where he was treated and released. The other person who was reportedly injured was not treated. Perdue said that person appears to have either been hit by shrapnel or possibly by rocks flying up when a gunshot struck the ground.
Since the investigation is ongoing, Perdue said he could not release the caliber of the weapon that was fired.
Trouble at the fair is not a common occurrence. When it does happen, Perdue said it is usually very minor. Still, his office plans to have a greater presence at the remainder of this year's fair.
"You know, this is really not typical for our fair. I've been sheriff for 15 years and we've never had a problem like this. Any problems that we've had are usually children that have wandered off, or maybe a little juvenile fights here and there, but nothing major at all," Perdue said. "It's not anything typical for us, especially during the week. On weekends it kind of heats up a little bit here and there between some people, but this is not typical. But we will have a larger presence the rest of the week out there."
Anyone with information related to the incident is asked to contact the Clark County Sheriff's Office at 859-744-4390.
More News